Andy Schichter is a 2x WCMA-nominated producer and audio engineer based in Vancouver, BC, where he operates and works out of Park Sound Studio. His years of traditional and practical studio experience, combined with meticulous attention to detail and an innate desire for collaboration, have built him a career working alongside a long list of influential Canadian and international artists. Andy's productions have been featured on CBC Radio, Stingray, Sirius XM, and numerous Spotify and Apple Music-curated playlists. Most recently, his work with Trust This Mechanism, and Anna Katarina earned Audio Engineering nominations at the 2022 and 2023 Western Canadian Music Awards.
Andy's early career began with an apprenticeship under Grammy Award-nominated producer Tucker Martine, where he worked on projects such as The Decemberists' The King is Dead (#1 US Billboard 200) and Beth Orton's Sugaring Season (#26 UK Albums Chart). Through this mentorship and the accumulation of his own projects, Andy developed a distinctive style blending vintage gear with modern production techniques. This approach has allowed him to work within a diverse range of genres and styles, including recent projects alongside Juno-nominees Rare Americans, Sleepy Gonzales, Jack Botts, and Anna Katarina.
As a teenager in Waterloo, ON, Andy became fixated on the science behind recording and began uncovering the seemingly infinite methods of capturing and twisting sound. This fascination with the finer details of music has remained integral to his process and, blended with his patience and eagerness to collaborate, has allowed artists to feel a sense of trust and security in Andy's presence. This special, ubiquitous feeling cannot be forced in a studio setting, though it permits unhindered expression and experimentation when it is present.
Andy is also a prolific mixing engineer and is continually relied upon by national and international artists to finish their artistic vision. He approaches each project determined to listen to what the artist sees and hears before ever touching a knob. His patience and consideration of an artist's vision are always present as he strives to create, together, the unique colour palette needed for each project's landscape.
In addition to his career as a producer and engineer, Andy works closely with established and rising stars in their career development through management, tour booking, and grant writing. Andy has written numerous successful FACTOR, Creative BC, Music BC, and Canada Council for the Arts grants. He also sits on the board of jurors for FACTOR, Music BC, the WCMAs, and the JUNOs.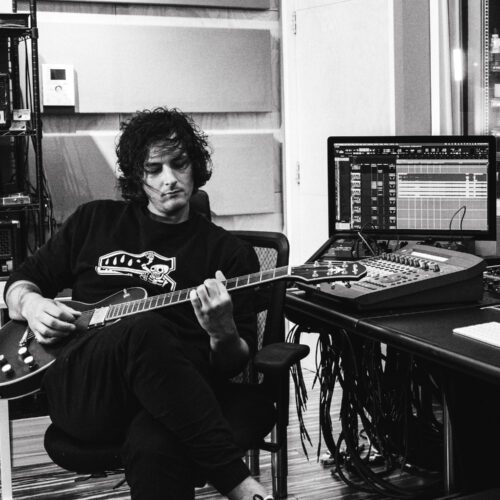 Originally from Kelowna, BC, Dan grew up playing bass in high school jazz but behind closed doors was fanboying over MCR, HIM, and other "it's not a phase, mom!" bands. Years later, Dan is now engineering, mixing, and producing other bands and artists at Park Sound in North Vancouver, and it's still not a phase.. mom.
Dan plays guitar, bass, a bit of drums, and keys. He plays in a band called Dusknote and you may catch him playing around town with other bands he's worked with in the studio.
If Dan isn't working at the studio, he's hanging out with his wife Megan and their cats Sushi & Wasabi.